Seafood dipping sauce is extremely important when enjoying fresh seafood. The sauce is delicious, rich, suitable to honor the freshness of seafood. How to make seafood sauce with the simplest ingredients, enough ways to mix for each type of sister can refer.
Fresh seafood boiled, steamed, fried, grilled … are all very tasty and sweet, but adding a bowl of sauce with the right taste, prepared according to the recipe will "wake up" the taste of fresh seafood. The way to make seafood sauce is very simple with green chili salt sauce, red chili salt, seafood dipping sauce … very simple. Eva's kitchen guides you on how to make delicious seafood dipping sauces, prepared with ingredients, the easiest recipe to follow.
1. How to Make Red Chili Salt
Ingredients:
30g red horn chili
15g salt
1 lemon
10g garlic
60g white sugar
2-3 lemon leaves
Making:
Step 1: Wash red peppers, remove stems and seeds. Peel the lemon, remove all the seeds. Lemon leaves are washed and cut into small pieces.
Step 2: Put the horn pepper, lemon with seeds, lemon leaves, garlic, sugar and salt in a blender. Stop once every 15 seconds and blend until completely pureed.
Red chili salt has an eye-catching color, a harmonious taste of sour, sweet and spicy, the aroma of lemon leaves, fresh lemon creates a delicious seafood dipping sauce that can dip all kinds of seafood from grilled, boiled, steamed…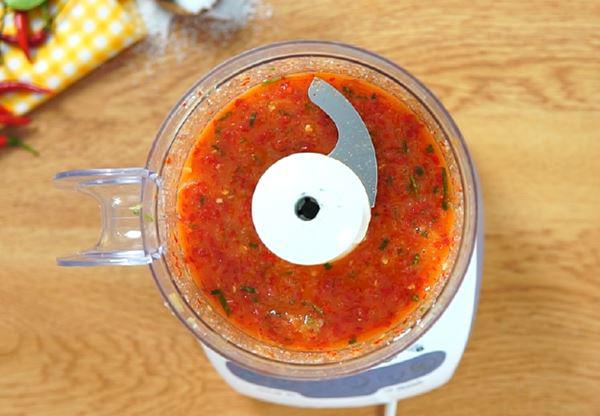 2. How to Make Yellow Mustard Seafood Dipping Sauce
Ingredients:
1/2 teaspoon yellow mustard
1 egg yolk
1/2 teaspoon salt, 3 teaspoons sugar
6 kumquats (kumquats)
4 lemon leaves, 1 whole horn chili
Ground pepper
Making:
Step 1: Put salt, egg yolk, mustard and sugar in a bowl, beat it and put it in the steamer.
Step 2: When the mixture thickens, sugar and salt are dissolved, add 3 small sliced kumquats and mix well. Continue steaming until the mixture boils again, then turn off the heat.
Step 3: Slice the remaining 3 kumquats, finely chop the lemon leaves and chili peppers and add them to the steamed mixture. Add a little pepper, stir really well to get a mixture of yellow mustard seafood sauce.
The yellow mustard seafood dipping sauce is fragrant, not fishy and bold in taste. Can do all kinds of steamed, boiled, grilled seafood.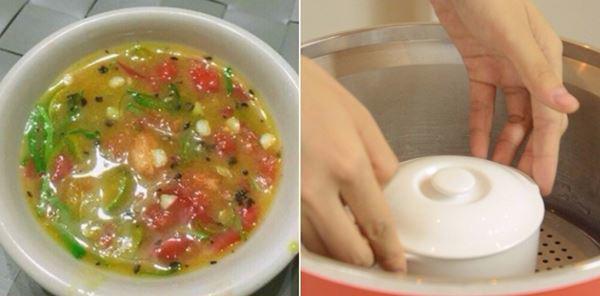 3. How to Make Lemon Chili Salt
Lemon chili salt is especially popular as well as Nha Trang lemon chili salt. Dipping seafood with this dipping sauce almost preserves the delicious and fresh taste of seafood.
Ingredients:
1 lemon
10g white sugar
3 – 4 chili peppers
1/2 teaspoon salt
2 – 3 lemon leaves
Making:
Step 1: Squeeze lemon juice, remove all seeds. Chili peppers are washed, cut lengthwise, seeds removed and drained.
Step 2: Put chili, sugar, and salt in a blender. Stop once every 15 seconds, blend until completely pureed.
Step 3: Pour lemon juice into the blender and pour it into a bowl. Thinly slice lime leaves sprinkled on top.